Twice Cream is about more than just delicious, artisanal ice cream—it's about creating lasting memories around food and shared experiences.
Like treating your kids to ice cream after a game, or grabbing ice cream with friends on a hot summer day.
Perhaps it's the memory of a first date, ordering just one to share, but with two spoons and twice the scoops.
Thanks for choosing Twice Cream for your local event!
4.2L (serves 30-35 scoops) $60
11.4L (serves 70-75 single scoops) $140

Add-Ons
Compostable cups and wooden spoons: $0.50/set.


House-made Waffle Cones: $1.00 each


Rent our Twice Cream cooler which holds up to two 11.4L tubs or four 4.2L tubs. $50 per day + $100 refundable deposit.

Please note we require a minimum of 2 weeks for all orders. Our coolers do not include ice and will require the addition of ice packs or dry ice. We recommend a maximum of 2 hours usage for the cooler with the ice cream.
Single serve cup with a spoon: $5 per cup Minimum 25 cups per order and per flavour.
Flavour availability depends on our current offerings. We have our Forever and monthly Rotational flavours.
Please note we require a minimum of 2 weeks for all orders.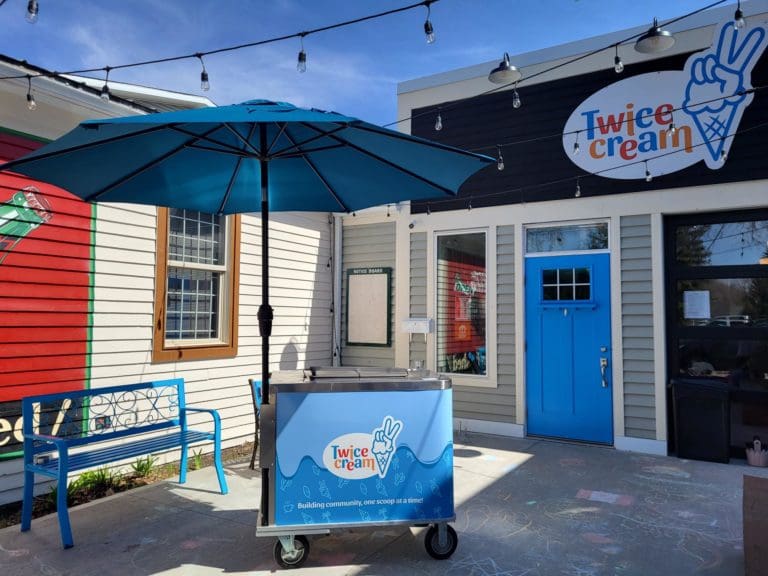 Our Twice Cream cart and display is sure to stand out at your next event. Pricing varies depending on the event location, size and number of guests.
Our base package includes the following:
Two hours of service by our amazing team giving guests a dynamic & personalized experience
One hour set up & tear down; total 4 hours on site.
 Full-service scooping OR pre-packaged single serve portions.
Up to four flavours, selected from our current forever flavours and monthly rotational offerings.
Minimum number of guests: 50+
Details & Display Requirements
8' x 8' for umbrella clearance, optional for indoor locations with limited overhead space.
Cart dimensions: 30"w x 45"d x 40"h, weighing up to 350 lbs.
Please ensure that there is clear access into your event space with the dimensions mentioned above.

Base Package Price: $1,200 (and up)
We require a minimum of three weeks for all orders.
Interested in having Twice Cream at your event. Fill out the form below and we'll get in touch right away!